Dorsten – A Sea of Umbrellas
For one summer in 2021, the small town of Dorsten in North Rhine-Westphalia made headlines beyond its local area. Why? Because of hundreds of colourful umbrellas!
Dorsten is located in the western part of Westphalia and is considered a town with a population of about 75000. It lies between the more rural Münsterland and the urban Ruhr region, a large agglomeration of cities that is home to more than seven million people. Dorsten has an old town, a historic town hall, a market place in the heart of the city and a water castle (Castle Lembeck) outside the centre. There is also the Jewish Museum Westphalia east of the old part of town.
Anyone who has travelled North Rhine-Westphalia extensively knows that the state is rich in castles, remains from the industrial age and culture. I had never heard however, that a town in that region would decorate the central part with hundreds of umbrellas. But that's what Dorsten did this summer.
Over 380 umbrellas were placed high above the pedestrian shopping streets and over places, sometimes lined up, sometimes grouped in a square. The otherwise unremarkable central town became a very different place. In German cities you rarely look up because there's no point in doing so.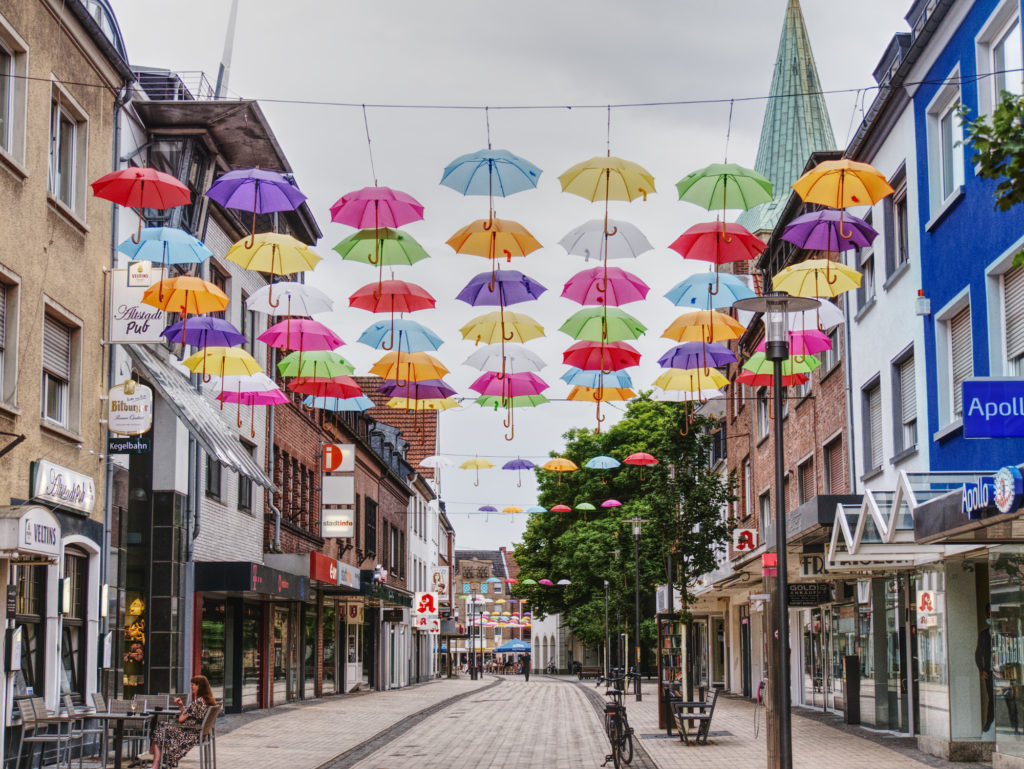 Umbrella cities
Looking beyond Dorsten, the obvious comparison is the Umbrella Sky Project in Águeda, Portugal. The Umbrella Sky Project is more of a temporary transformation of public space into an art space with public art and concerts. And hundreds of umbrellas of course. The umbrellas are so densely grouped together, that they provide shade, too.
In Dorsten the umbrellas were used far more sparingly and provided little shade. There were no concerts and no public art. I walked through the town in search for more umbrellas. Getting a good angle for photos is far harder too.
But maybe that's not important. This is a project that brightened up a part of town. It was a success. The umbrellas of Dorsten did not attract hundreds of thousands of tourists. But according to media it was welcomed by locals. I hope that this one-time event will become an annual one and inspire more German cities to be more creative with public space.
The Dorsten umbrella project was scheduled to last until September. Due to heavy winds and damage to many umbrellas, it was finished in August 2021.