K1 Karaoke: The Spanish Language Moshpit
Let's go to Düsseldorf's K1 and sing your heart out – if you're into Western-style karaoke. This was my first time in a karaoke bar in the West.
I've done karaoke plenty of times in Japan and Korea, also at home (on the PlayStation 4) and a private place in Düsseldorf. Asian-style karaoke means singing in front of your friends or coworkers. Basically every person present has some kind of connection with you. It's also common to sing alone – some services in Japan and Korea are tailored to what is known in Japanese language as "hitokara" (hito=hitori=alone, kara=karaoke).
In the West however, regular bars set up karaoke systems without private rooms. You'd sing and drink with strangers. This is the most common type of karaoke offered here. Asian-style karaoke exists – especially in Düsseldorf – but they're a far cry from the modern, bright and inviting karaoke places in Tokyo.
Movie and…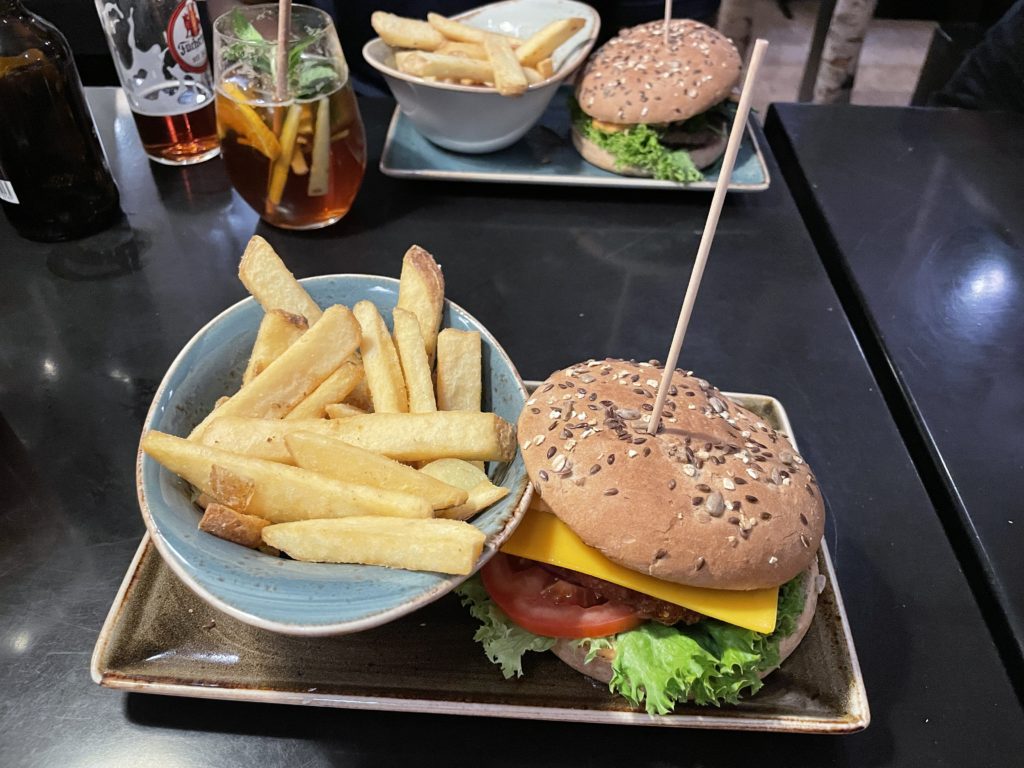 We started the evening with a meal at one of the modern burger franchise stores. "Hans im Glück" has lots of vegan and vegetarian choices and is located in Düsseldorf's Medienhafen. After that, we caught a Japanese movie ("Wheel of Fortune and Fantasy") at art cinema Bambi. Bambi also shows plenty of LGBT movies.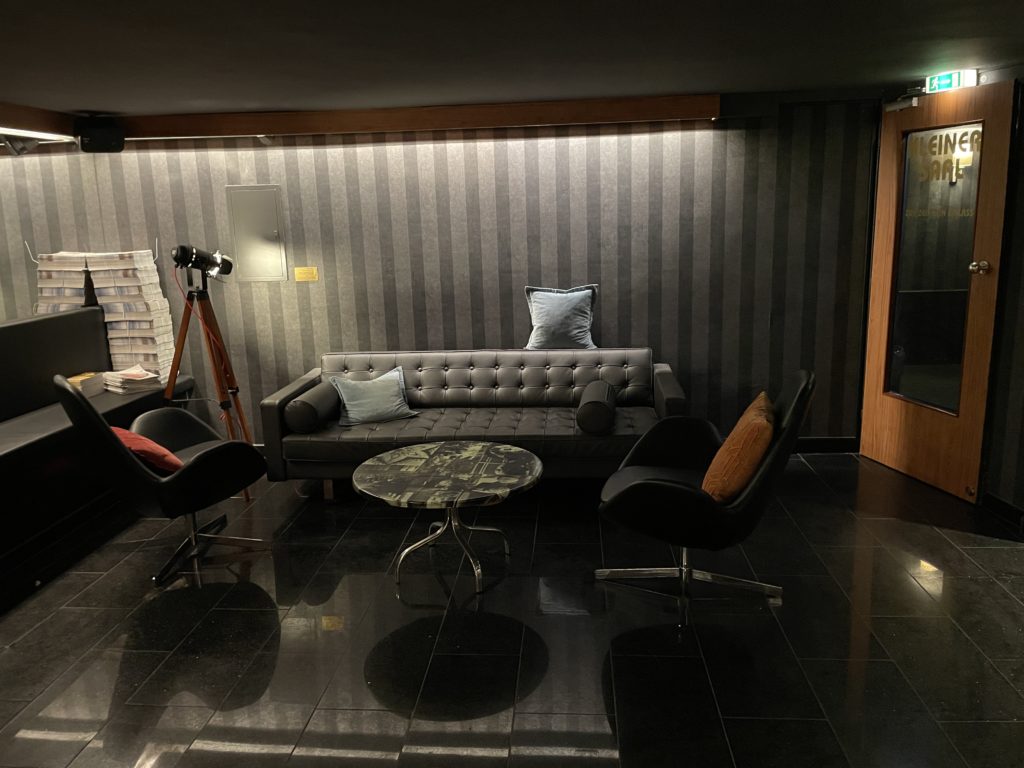 After the movie was finished, the party at K1 was already in full swing. There's just a minimum order of one drink. The place in front of the TV was packed and it was apparent that we weren't the only ones coming in a group.
A question of systems
How does a bar or karaoke center get their songs? Neither Apple Music nor Spotify provide the true karaoke experience. But there are specialized providers who deliver songs without the vocals. These providers offer far less songs than your typical music streaming service. Leading music streamers offer tens of millions of songs, the typical Japanese karaoke music catalogue (Joysound, DAM) has just 250000 songs. The number may even be lower at places where the catalogue isn't up-to-date.
K1's provider is Karafun, which caters to both home customers and businesses. You can download the Karafun app, order a "Party-Pass" (4,99 Euro) and start singing. Different price plans are provided for businesses.
Karafun only has a very limited number of Japanese, Korean and Chinese songs. On the other hand, it has way more German songs than I'm used to. In Korea and Japan, I had a selection of maybe three to four German-language songs.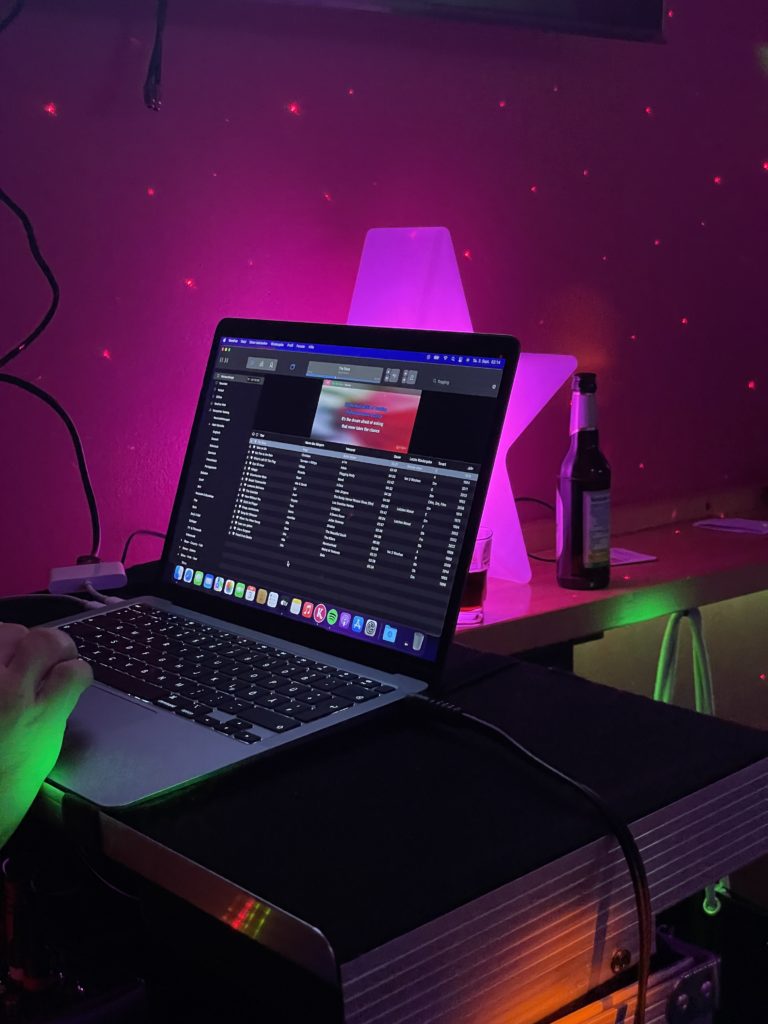 For Japanese speakers!
If you go to the web site, you can also get a preview of each song in the web browser. I was curious about the Japanese songs! The experience is… uneven. Some songs are Romaji-only (latin alphabet), others use only Katakana/Hiragana in addition to Romaji, the third group has Kanji/Hiragana/Katakana, but adds a big line of Romaji above. There's no Furigana.
The song selection is all over the place: Some Anison (Gurenge, Cha-La Head-Cha-La, Pegasus fantasy), Plastic Love, one Japanese-language song each from Twice and BTS. No Cruel Angel's Thesis (Evangelion)!
As if nothing really matters
What was performed at K1? Bohemian Rhapsody, obviously (which we rarely did in Japan/Korea, by the way). Other songs were Smells Like Teen Spirit, Total Eclipse of the Heart, Moi… Lolita and Don't Stop Me Now. K1 also had plenty of Spanish-language songs. For every of these songs, a Spanish-speaking group seemed to form, all shouting into the two supplied microphones.
This must be the Spanish moshpit. I kept my distance.
Songs are selected by smartphone. You scan a barcode and you're redirected to a special website where you can search songs and add them to the playlist. Ultimately, it's the decision of K1's DJ which songs are played and in which order. You may spot your song on the DJ's Mac computer, but he may change the order at any time. Only the first five songs kept their spot.
So you can't be sure if you can sing your song even if you've entered it three hours before. But it seemed that the DJ made sure that everyone could at least sing once.
Thank you for the music
The karaoke part ended at 3am, with the DJ and staff singing the last song. K1 would stay open after that, but only for drinks. For me, it was time to catch the train home. K1 is located about ten minutes from Düsseldorf main station. The train was on time. And so was I.
What about my first Western karaoke experience? It was good. There were some technical issues (one of the mics didn't seem to work as well) and I'm not that fond of Karafun's library. But there was a lot of energy in that room. I still prefer Asian-style karaoke though, but I guess I'll drop by at K1 from time to time.
K1 Location + more info