Roll the dice, place cards and gain new friends (or lose existing ones) through board games. Germany not only has the biggest board games show, but also many meet-ups.
German video games aren't widely known internationally, but German board games certainly are. My first one was Settlers of Catan, owned by my then-girlfriend. We played it during some board game evenings with friends.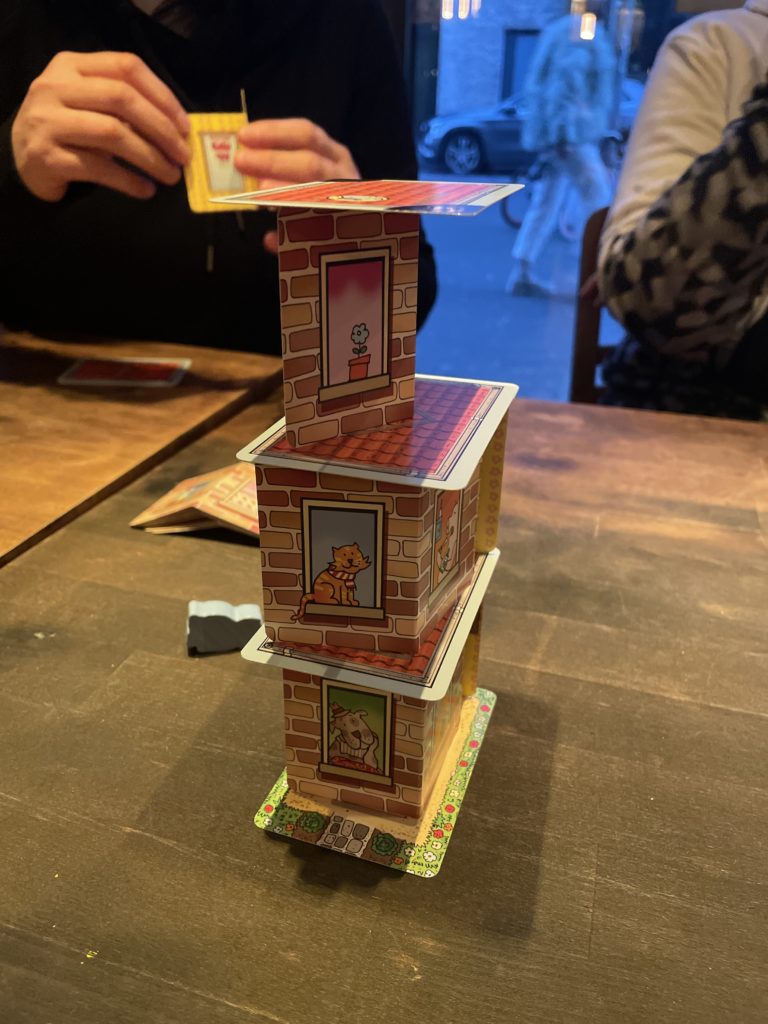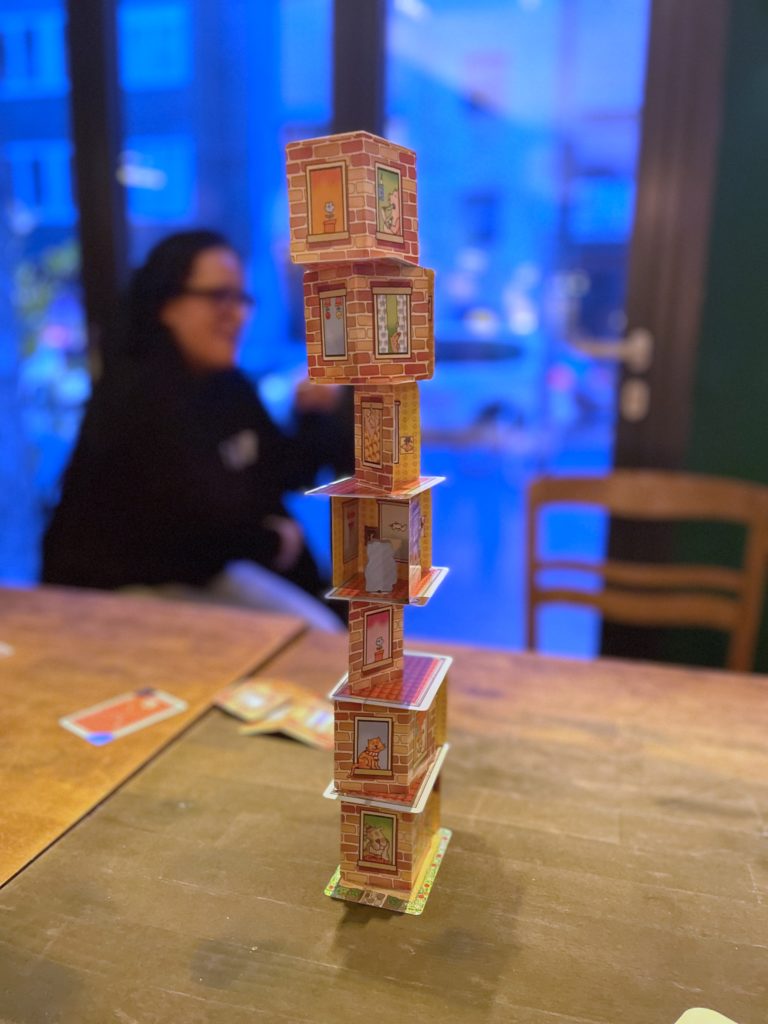 Essen, board game capital
Once a year, fans of board games flock to Essen. "SPIEL" (game) is the world's biggest trade fair for board gamers. Around 150000 people visit the fair each year, trying out and buying new games. This is the place for new games and you can get many before their retail release.
At one of my former companies, one colleague took days off to go there every day. The next one is from 5th-8th of October.
Meet-ups
In many cities, there are board game meet-ups organised through sites like meetup.com. For Cologne, there's a group called Cologne Boardgaming with 1800 members. Their game spot is at the Station Bar, a café/bar in the Station Hostel. It's just five minutes from Cologne central station.
This is also where I met another group for a board game evening. We started the evening with Rhino Hero. Rules: You place a card with one or more outlines on the table. Next player then has to fold one or two cards to match the outline and put another card on top. If the tower topples, the game is over.
More games
Unfortunately, our group was too large to play one games together. One group started playing Qwirkle, which bears a resemblance to Ishido. In Ishido, you place stones on a limited playfield and try to match either color or symbol of the surrounding stones. Qwirkle lets you place lines of stones and has no playfield limitation. The stones in each line have to show either the same color or same symbol. The next player has to place a line that connects to an existing one on the playfield.
The other group was playing Exploding Kittens. This game started as a crowdfounded game. You start with a deck of cards that includes a defuse card. Play a card and draw one from the stack. If you draw one of the dreaded Exploding Kittens cards, your game is over, unless you have a defuse card left.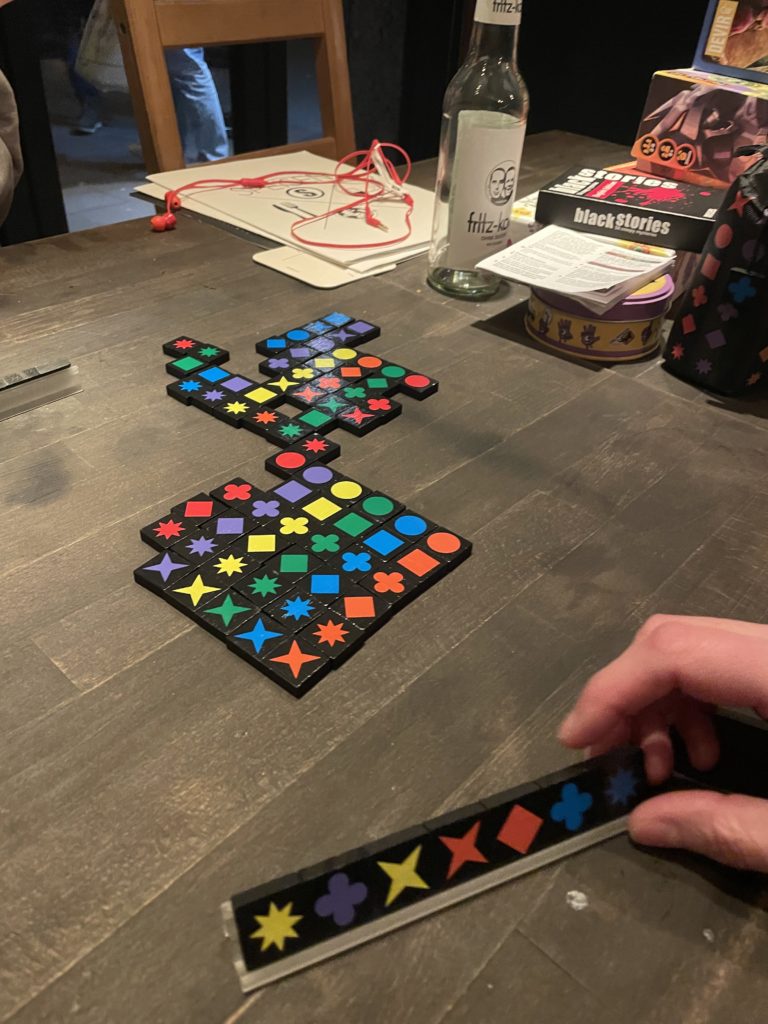 Good guesses
Carcassonne is perhaps the best known game we played. Build streets, towns, churches and grass land and place your little figurines to gain points if you complete an area. The game received various extension packs and special editions.
We then switched to Codenames Pictures, a game where each team leader has to give her team the best hints possible through one word plus the number of fitting cards on the field. If the team accidentally picks the agent card, the game is over.
Our final game was Dixit, another winner of Germany's "Spiel des Jahres" (Game of the Year) award. You're dealt six card. In each round one person takes the role of the storyteller, selects one card and thinks about a word or phrase that describes it. Every other player will select a card from their own stack too that might be a good fit. After that, each person will guess which card was the storyteller's. The storyteller's goal is always to have some vote on her card, but not all of it.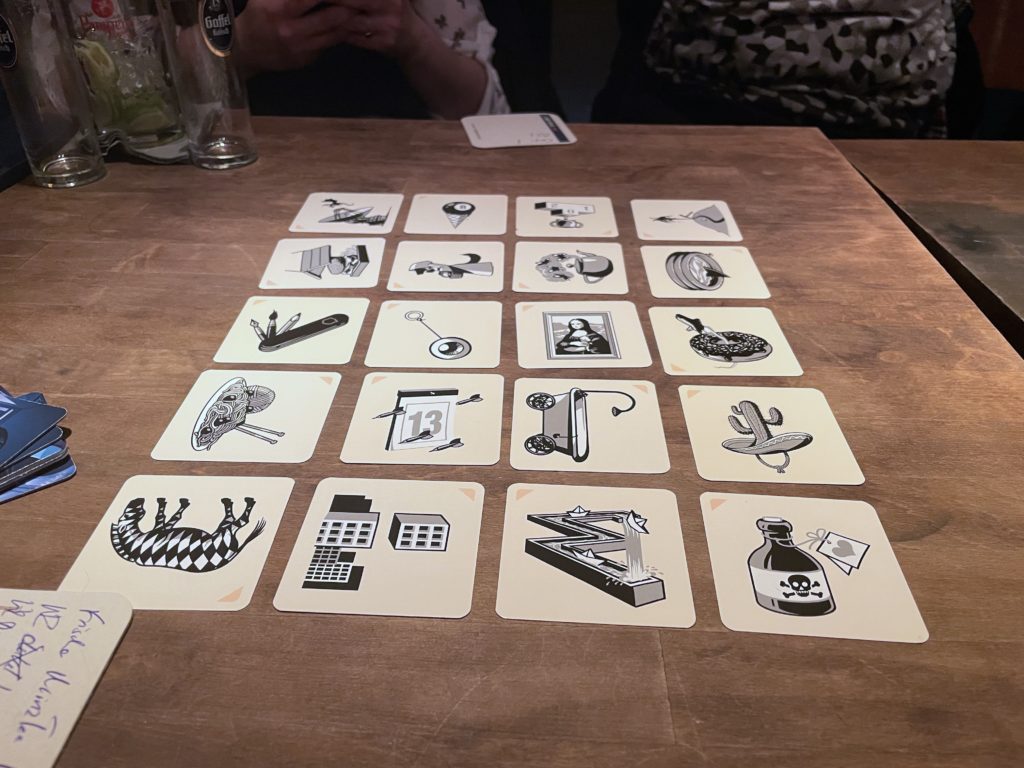 Meanwhile at the other table
Except for Qwirkle, all of these games can be played in short bursts. But we weren't the only ones playing board games at the café. At the other table was a group of guys who played what looked like a complex building game.
I learned more about some popular board games that evening!