Green Beachclub in Düsseldorf
Recently, I have been invited to the Green Beachclub. I've never heard about it before – I imagined an actual beach. I found something else…
The official website address of the park references the Nordpark, which is one of Düsseldorf's parks. But this was just a poorly chosen address, as the Beachclub was at the Nordpark in 2021, and moved to the Medienhafen this year. It's also temporary and only open during the Summer months.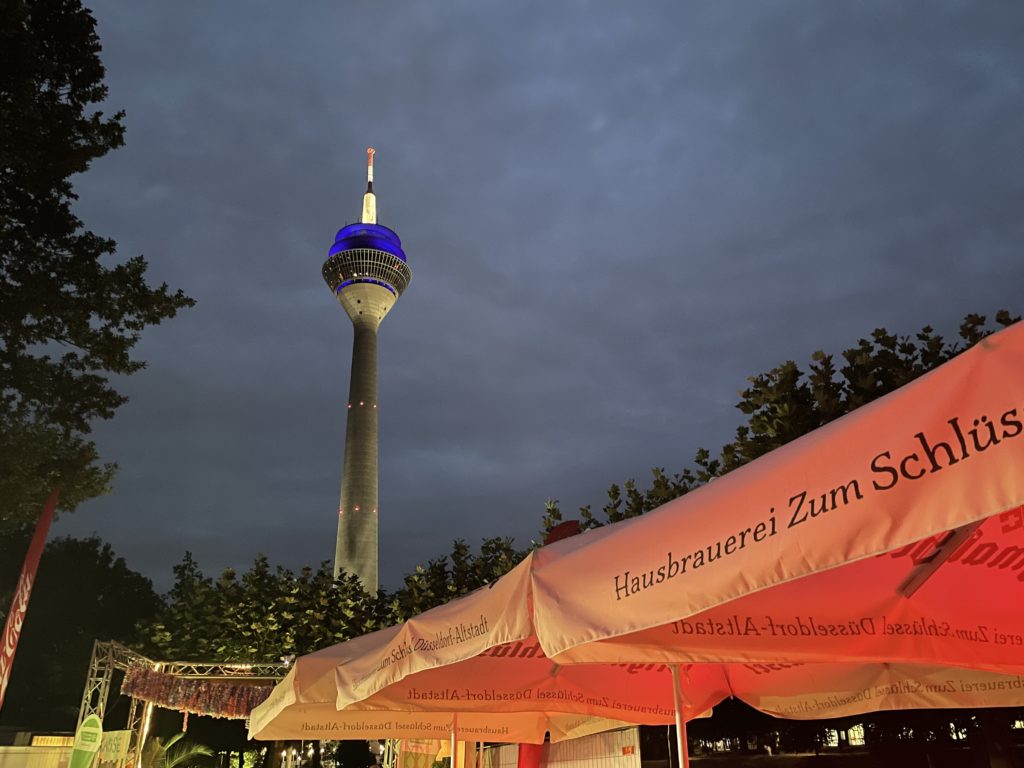 Entrance is free – the small booth is for selling cards. Those cards have a value in Euro and you use them to pay for your drinks and snacks. Fortunately, you're not stuck with change that you can't return: If you're unable (or unwillig) to use up the rest of your card budget, just return it and you'll receive money back.
No beach, but a tower
Unlike previous locations, there is no sand at this year's Beachclub. But you still got various seats, benches and a Strandkorb. There's something for every group up to eight people. The river view is mostly blocked by trees, but you can see the nearby Rhine Tower.
The Beachclub also features a stage. It's not used everyday and was empty on this Saturday evening.
Food & Drinks
There is a food truck and a bar. The former offers sausage, fries, nachos. The drink selection is bigger and includes various beers, whines and a variety of non-alcohol drinks.
Overall, Green Beachclub is  a good place to have a drink or two in a larger group. For smaller outings, I think I might prefer to sit at the Rheinpromenade where I have an unobstructed view of the river and Rhine Tower.
Green Beachclub Location + more info