AR Biennale Düsseldorf: Digital Smartphone Art
AR Biennale – people posing for no reason, other people taking pictures of grass: It's time for Düsseldorf's first Augmented Reality Biennale!
Augmented Reality is already used in navigation and gaming (Pokémon Go), but if one believes Apple CEO Tim Cook, this is only the beginning. The company repeatedly called AR an important technology and may even release AR-enabled smart glasses. The idea is to walk through town and having useful information displayed directly into your view.
But AR can be used for art too and that's why NRW-Forum started the first AR Biennale in Düsseldorf. Download the app, scan the signs and then look at the art that is created in the camera view. Most of the works are displayed in Düsseldorf's Hofgarten and Ehrenhof.
A walk in the park
Ehrenhof is in front of modern art museum NRW-Forum and Hofgarten is connected to the Ehrenhof. Both are near Düsseldorf's prime shopping street the Königsstraße. Two other art pieces are in the cities Essen and Cologne.
The app includes a static map that gives a rough approximation where the art is. There's also an in-app purchase (4,99 Euro) to access all works. In any case, you need to use the app (Android + iOS) to see the art.
The art isn't distributed evenly in the park. Most of AR art is in the area of the Hofgarten closest to the Ehrenhof. That's where you almost don't need the map because you can see the next sign easily.
Scan & See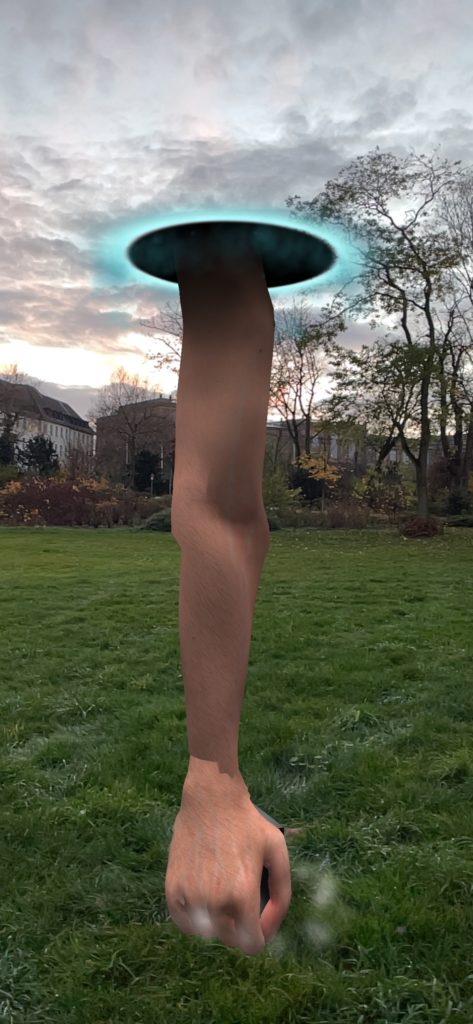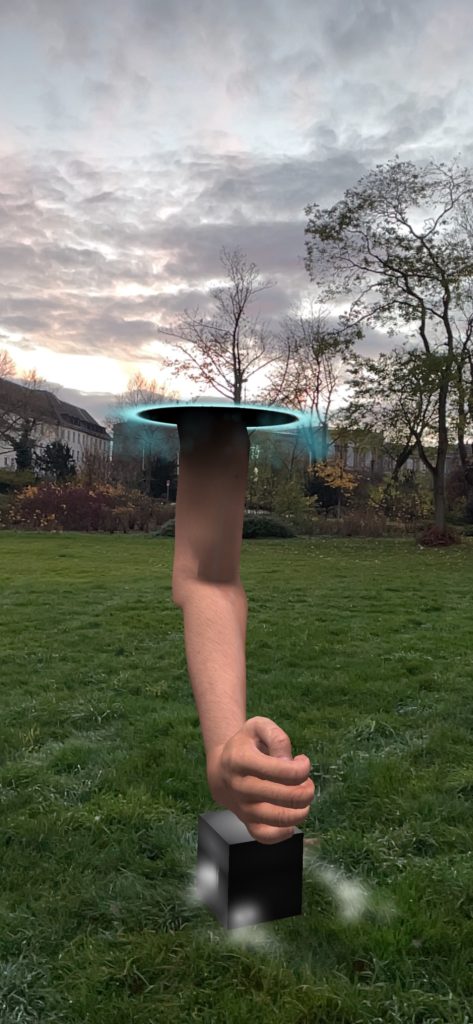 Each sign includes an area to scan and a QR code with a link to the app. While in scan mode, you'll also see some buttons. The most important is of course the camera icon, which will take a picture. Since this is augmented reality, you may want to put yourself in front of the camera, strike a pose and do stuff.
The app works in both portrait and landscape mode. After hitting the camera button, a box will pop up. AR Biennale will tell you that it has just saved a screenshot. A screenshot? Yes, that's no mistranslation. The photos that were saved on my iPhone 12 had a resolution of 1170×2532 – normal photos are 3024×4032. The app doesn't support recording videos.
It may be a good idea to use a device with a different aspect ratio, like an iPad. At least the app gets the file names right: it includes the name of the artist.
AR Biennale Art
The first art piece we found was by Banz & Bowinkel. It consists of an animated ring, spheres and cubes. Other AR art is shown at various locations in different variations like "Ballet am Rhein". Ballet am Rhein shows a ballet dancer doing some dance with visual effects. At some locations it works better than at others – sometimes she will just float in the air.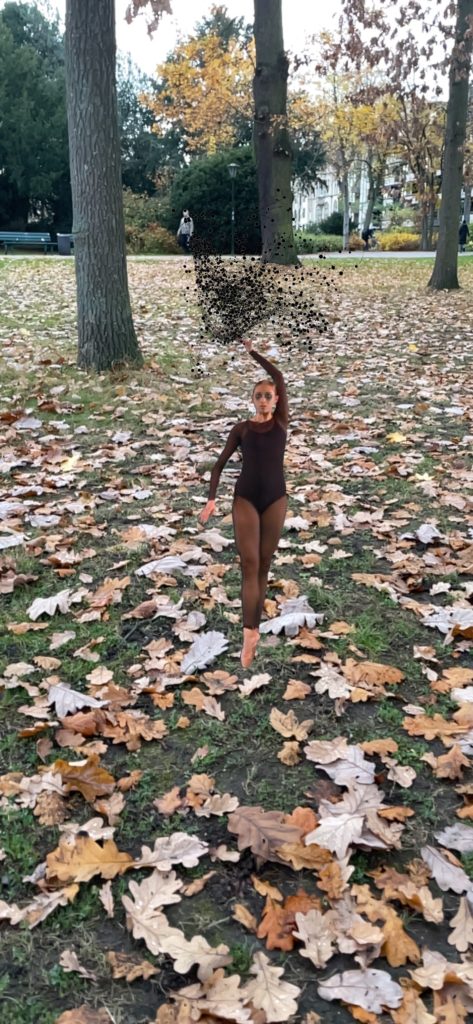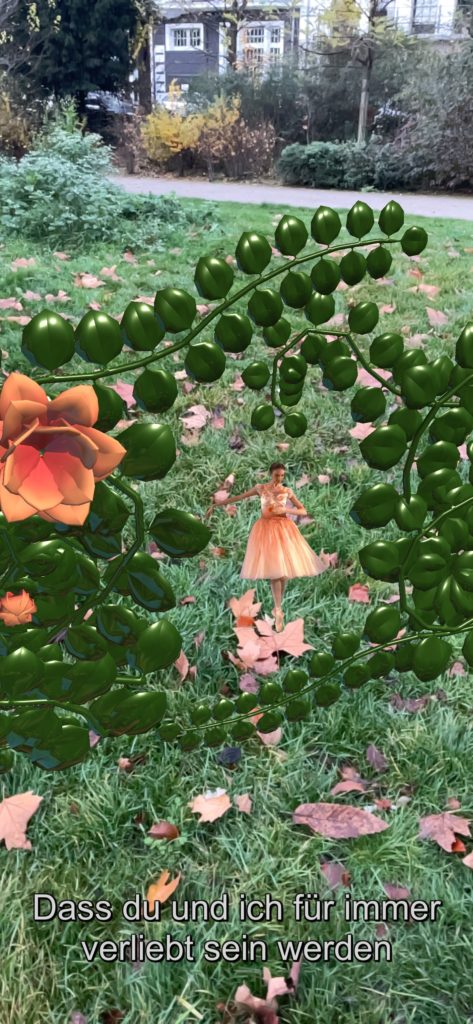 This shows that the technology isn't advanced enough to fully integrate this objects into the environment. Virtual objects cast no shadow and visitors have to angle their smart phone in the right way to better integrate these videos with the real world.
That's also true for the works by the Keiken art collective found at the three chess tables.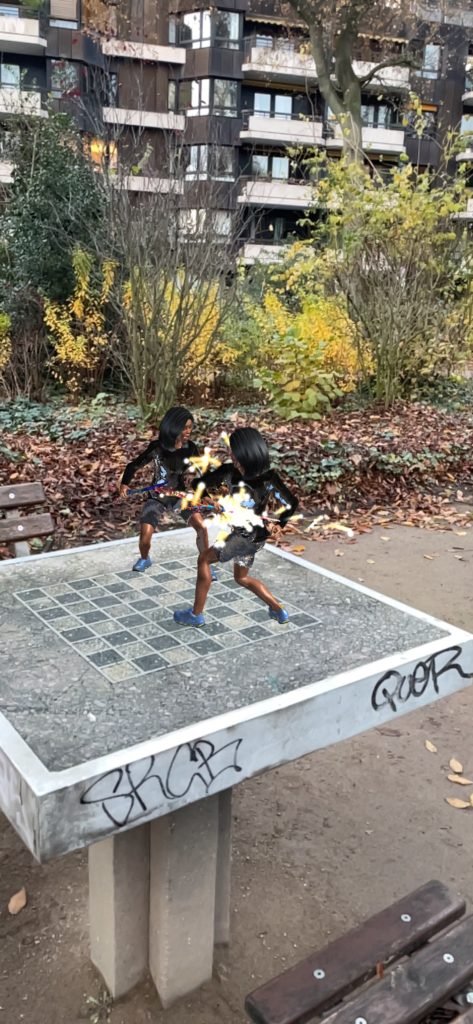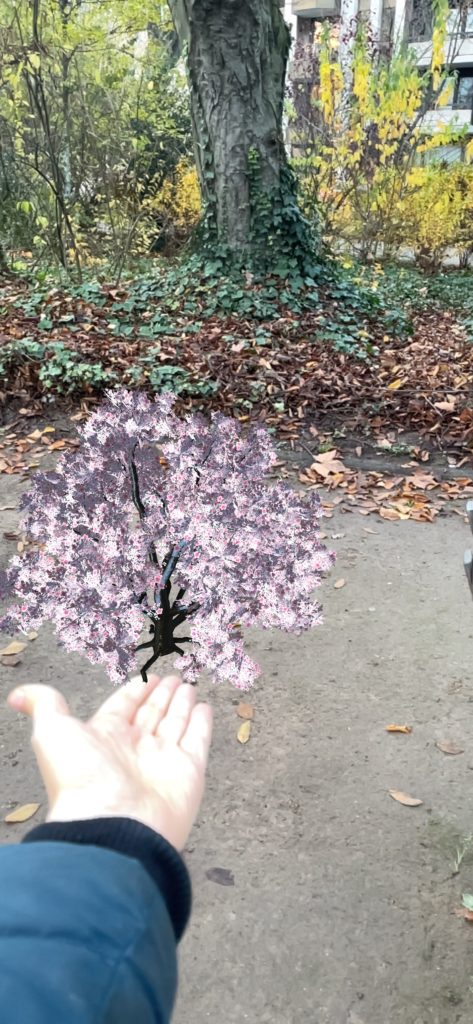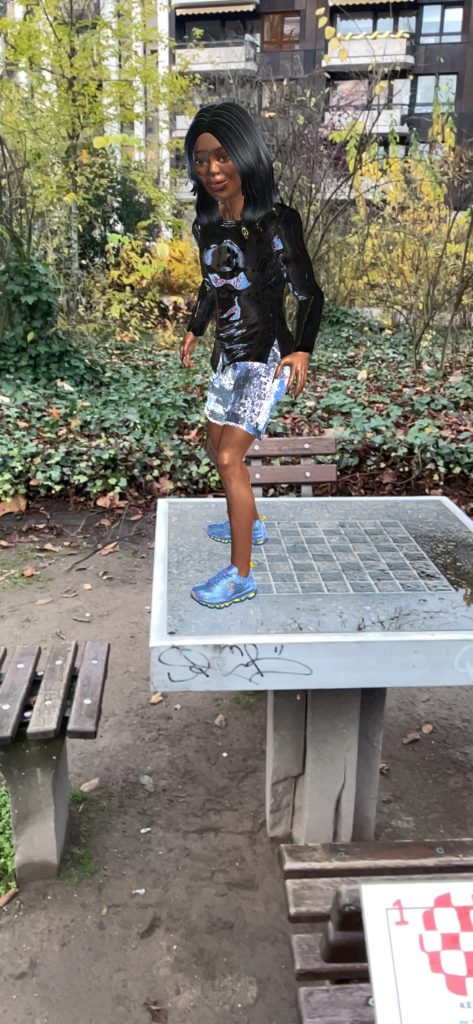 Abstract works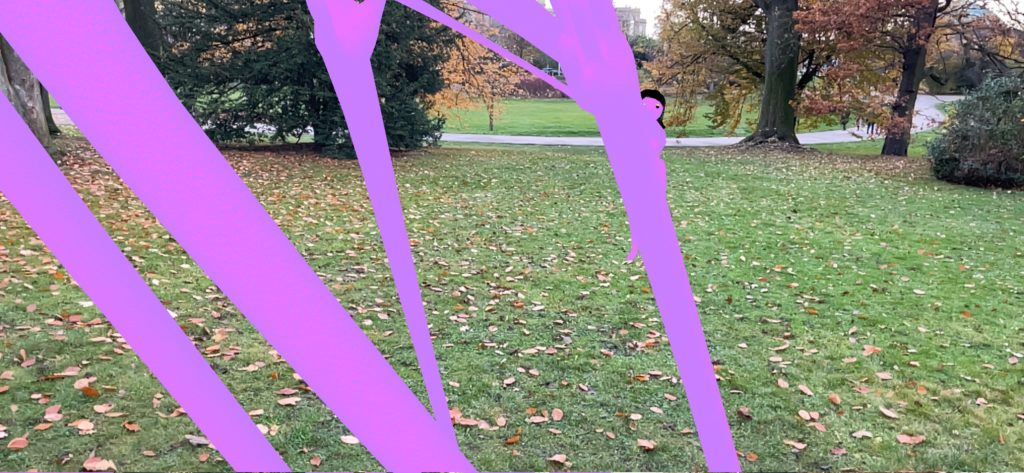 I think that the abstract pieces work best. Sarah Rothberg's "Sehnsucht" creates a bizarre avatar that moves in sync to the smartphone. Arms and legs elongate while a poem is played.
Another fun piece is Damjanski's "Algorithmus der Höhle". A black box appears and you can interact with it – but a big hand is not happy about your actions and will restore the box. While the app gives a lengthy description about the meaning, it reminded me of a useless machine that will switch itself off if you turn it on. Great fun with kids!
Other pieces I couldn't get into. Lauren Lee McCarthy's works display phrases over the benches. Taking a photo without anyone sitting gives these phrases a darker tone. Lola Zoido Trujillo's work is another I didn't want to spend much time interacting with. It looks like a bad 3D object from a Nintendo 64 game.
Summary
From a technical viewpoint, the AR Biennale leaves a lot to be desired: The lack of reflection of the real world in AR objects, low quality of videos/3D objects and an app that'll only take screenshots. But this is likely only the beginning: As bandwidth and camera quality improves, so will the art pieces. Unless the artist chooses otherwise.
AR Biennale location + more info