Christmas decorations at Germany's train stations
Since Germany's major train stations also serve as shopping malls, it's only natural that they are decorated for Christmas as well. It's time for Düsseldorf vs. Cologne.
Both central stations offer access to regional and long distance as well as subway trains and busses. There are various shops for snacks, newspapers, clothes, super markets and drugstores. Düsseldorf and Cologne central station also include a food court with a variety of restaurants. Many stores are also open on Sundays, so these train stations can be a life saver when regular stores are closed.
They can also be seen as a "last resort" if you have no Christmas present. However, on the last Sunday before Christmas, regular stores are usually open for business as well.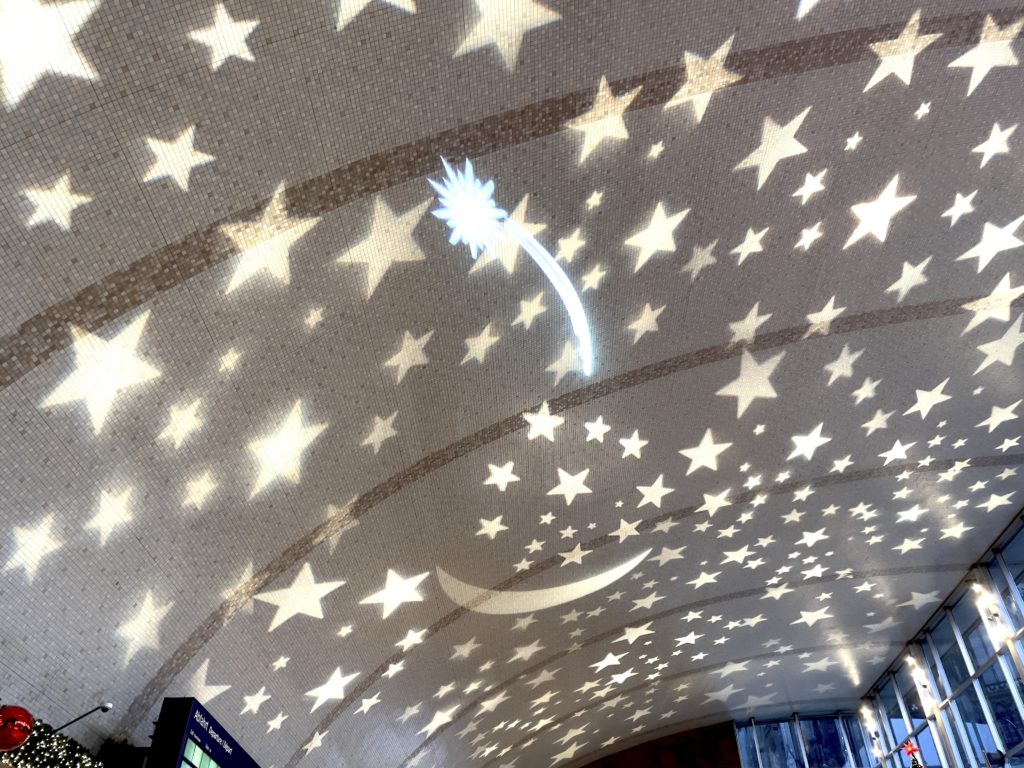 Decoration
This year, I did all my Christmas shopping well in advance. Train stations are decorated well before Christmas as well. Some stations such as Düsseldorf also have their own little Christmas market in front of the main entrance. But this tiny market can't compete with the one at Cologne's central station, next to the Cathedral. It's one of Cologne's main Christmas markets after all.
The Cathedral can be seen through the windows of the city/Cathedral exit. Christmas trees were placed on the branches of The Body Shop and Kamps (bakery). The ceiling features a moving starry sky. These kinds of projects are done for special events only (e.g. a big football tournament).
The side ways of the central station are decorated with red Christmas stars and led lights.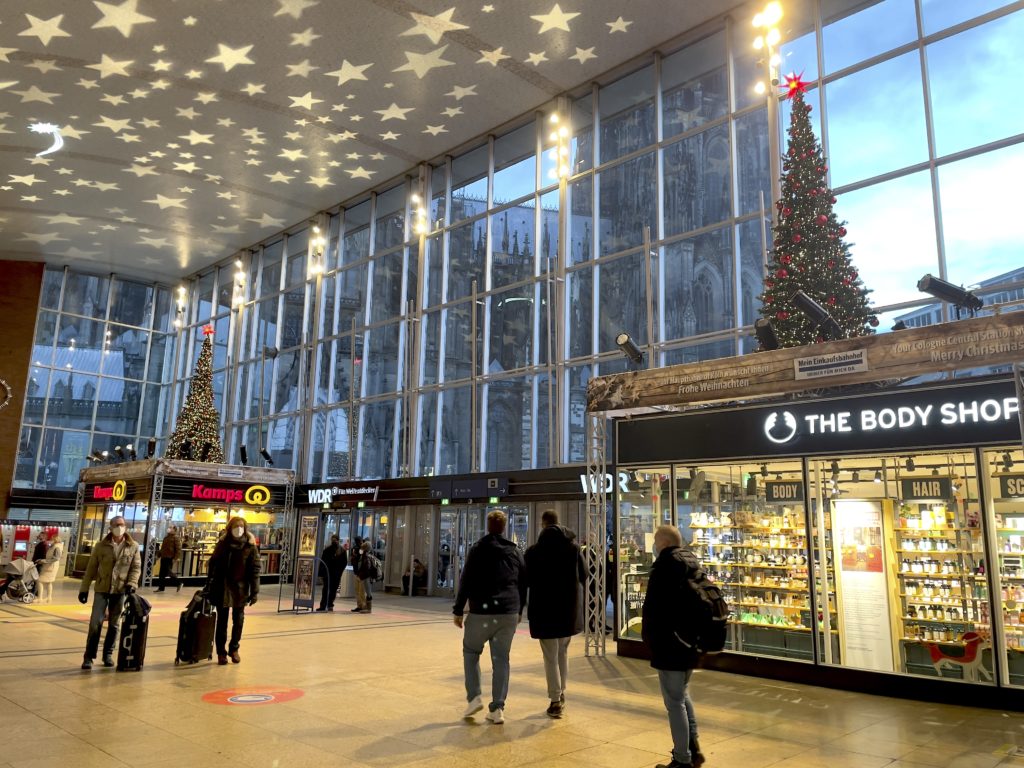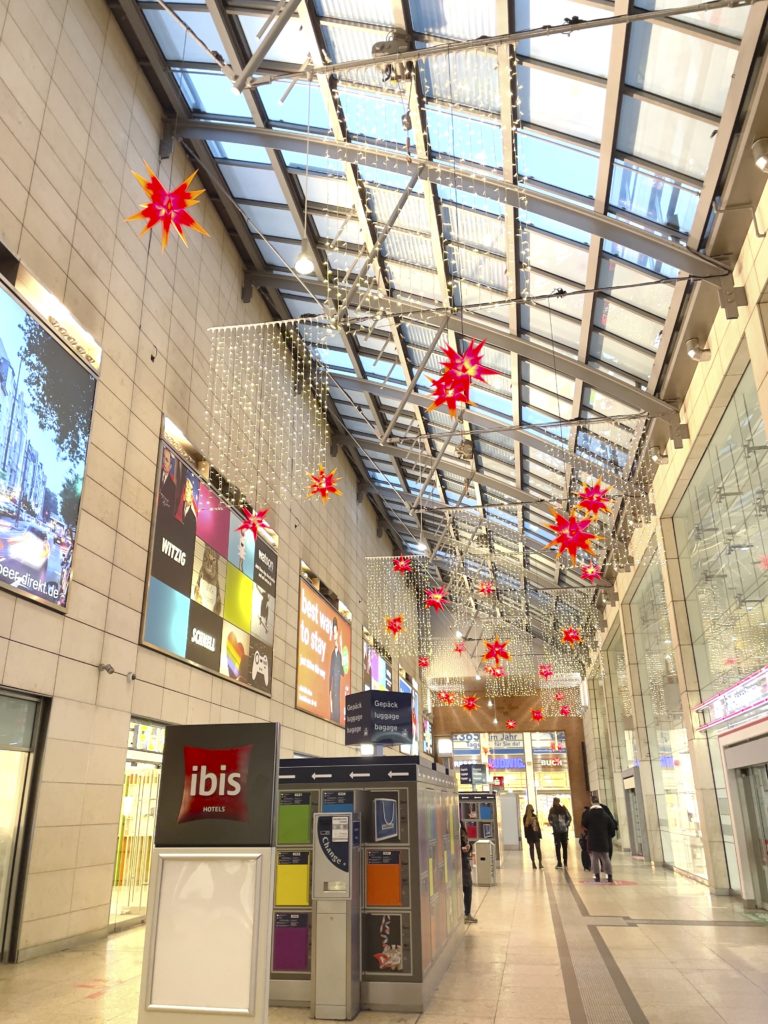 Düsseldorf Central Station decorations
Traditionally, a big Christmas tree is placed near the city exit of the main station. A second one is put along with many led lights on top of the entrance. It's not always the same decoration – I remember there being a big Santa figure some years ago.
Düsseldorf too has a starry sky projected on the ceiling of the main hall. Three trees and five stars are located above the digital departure signage. Points for symmetry!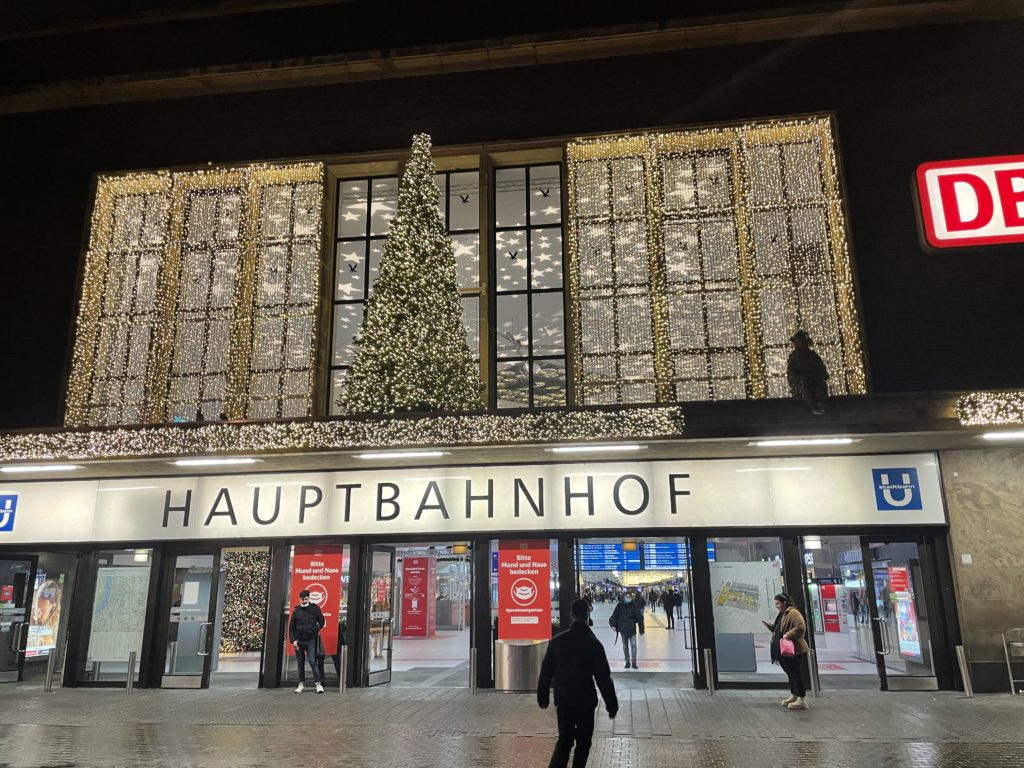 Other than the main hall, Düsseldorf main station has a low ceiling and not much space for decoration. This wide passage is one of two that connects to all train platforms and receives by far the most pedestrian traffic.
Cologne and Düsseldorf are just two examples. Expect great Christmas decorations at train stations such as Leipzig or Munich!