Tokyo German Village – Winter Illumination
Tokyo German Village is a park in Chiba, located about two hours from central Tokyo. The park offers facilities for families, flower events, a souvenir shop and German food. It's not an educational place meant to teach you German – in many ways it's very much a Japanese park.
Winter is time for the illumination festival when the whole park turns into an LED wonderland. Illumination festivals at parks like Tokyo German Village (Tokyo Doitsu Mura 東京ドイツ村) are usually more impressive than the festivals in central Tokyo. The festival lights and motives also change every year, encouraging people to visit the park at least once a year.
This year's Winter Illumination Shangri-La started on November 8 and will continue until March 31. The lights are switched on from 4 to 8 pm, last entrance is at 7.30 pm. Until early January, a shuttle bus will run from Sodegaura Station (Uchibo Line) to Tokyo German Village. The whole trip took me about two hours, but it was well worth it!During the bus ride, I had a nice conversation with an elderly Japanese lady who was quite surprised to see a German travelling to the German Village. After about twenty minutes, we arrived in front of the main gate of the Village.
Entering the park, you will soon see the big field covered in LEDs. Each year the patterns are different. All photos here were taken during 2011 Winter Illumination. Lamps, illuminated figures and small houses are placed on these fields.
I've seen a light tunnel at various illumination festivals and of course Tokyo German Village has one too! It's usually more crowded though 🙂
House with decoration: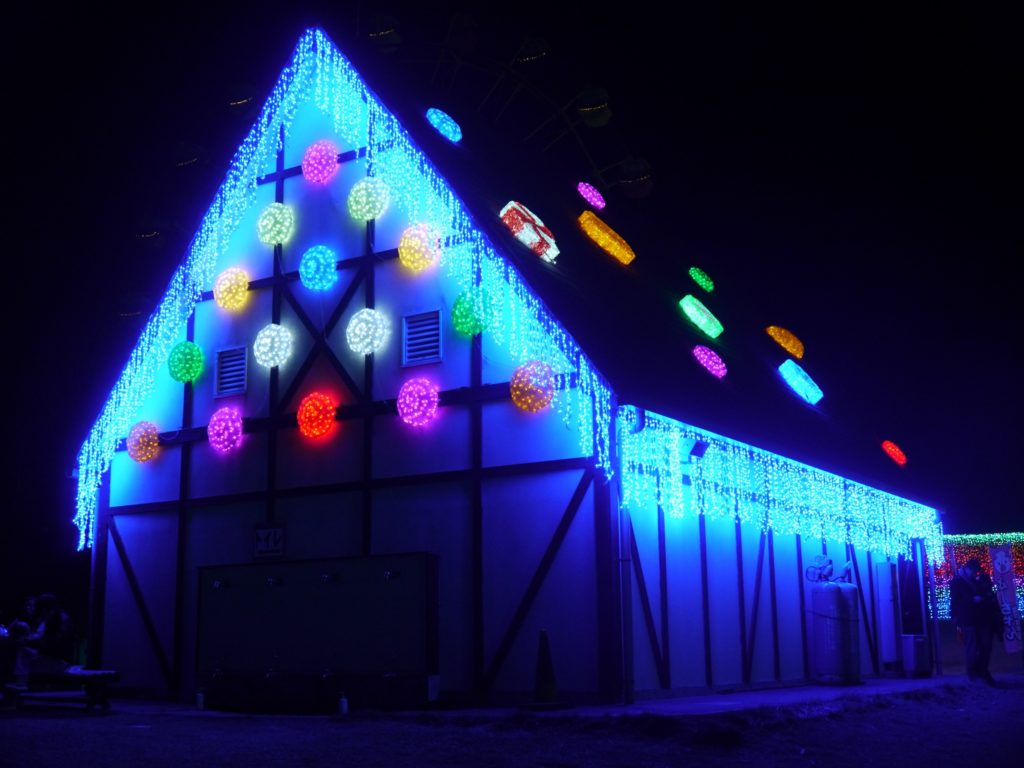 Germany?
The park doesn't try to be very German, which was fine for me. There are various German dishes like Eisbein available at the restaurant. Just like in Germany ;), you select your dishes and pay before entering the restaurant. There is cute food for kids like the "Smile Potato" and lots of Japanese dishes. The park also has an annual ramen festival, various performance festivals and some festivals where kids can make candles or decoration. Of course, October Fest is also celebrated at Tokyo German Village.
The shop sells various souvenirs, food with the Tokyo German Village brand and even actual German jam and beer. These products don't come cheap however.
At certain times, the area around the restaurant and shop turns into a light show with lasers and music (not from Germany).
Access: Tokyo German Village is not directly accessible by trains and I would recommend against trying to walk from the station to the Village. The most convenient way to access the park is by car. JR's Kapina Line highway bus (高速バス カピーナ号) departing from Chiba Station platform 21 stops at the Village. Other lines, like the Aqualiner will take you to Sodegaura. You will have to take a taxi from there (about 3500 Yen). The bus stop is next to the taxis in front of Sodegaura Station south exit.
Shuttle bus service is only available during the festival at certain dates on weekends. While the festival continues until end of March, the last possible date to visit the festival by bus is on January 4. Bus ticket is 500 Yen for adults and 250 Yen for children. The last bus going to Tokyo German Village leaves at 6:30, the last bus back departs at 8:30.