Museum Night 2022 in Düsseldorf
It's time for Düsseldorf's Museum Night! This museum night is set in Summer – that means there is plenty of warmth, but not much night. So off to the city of Heine and Kraftwerk!
If you haven't been to a museum night, keep some unwritten rules in mind:
Buy your ticket in advance
Plan your route in advance
Have a good book ready, in case of long lines
In my case, I simply walked to the tourist office across the main station to get my ticket. I had a friendly chat there. Apparently, some people buy the ticket without any idea what to see. That's fine, but Düsseldorf's museum landscape is big enough that you won't be able to visit every place in one night.
Generally, the more popular a museum or a particular exhibition is, the longer the lines. The worst was probably the Rheinturm (Rhine Tower): very limited space, long lines.
Getting around
There is a network of shuttle busses carrying you from museum to museum. Some are within walking distance. Unlike Cologne's museums, the more popular museums in Düsseldorf are not located right next to the main station.
As is typical for museum nights, most venues have special performances or events only for this night. Getting to a place on a specific time can be quite a challenge!
Kunsthalle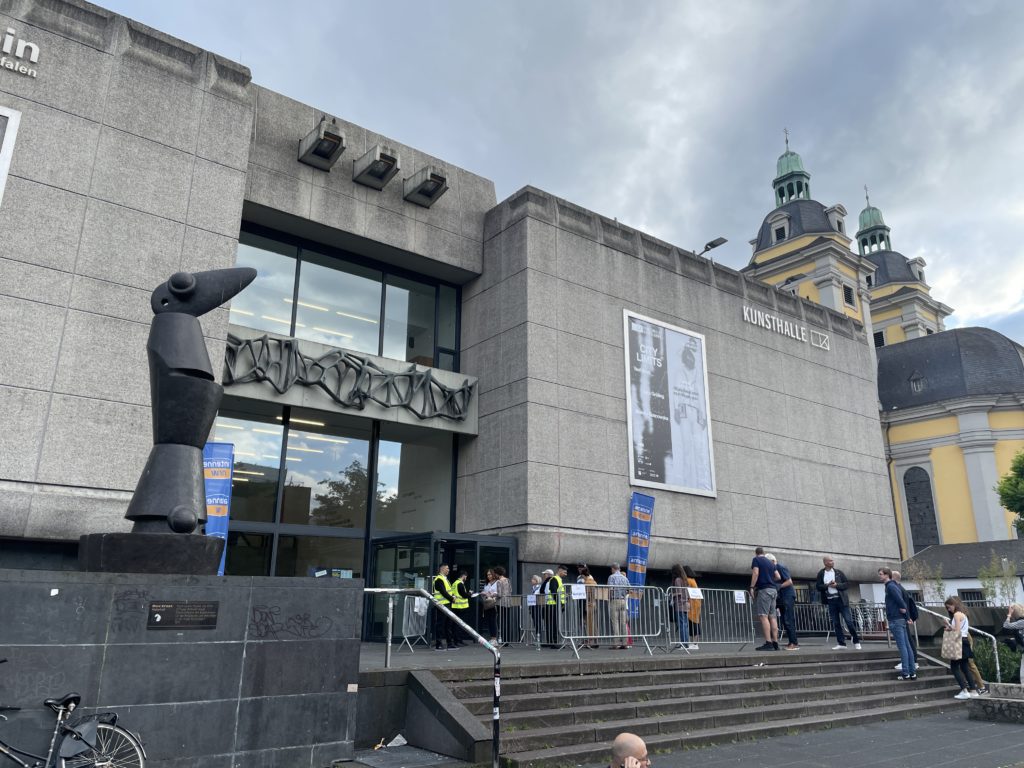 The first stop was the Kunsthalle Düsseldorf, an exhibition hall for contemporary art. The building itself is an example for Brutalist architecture.
There were various exhibitions representing different kinds of modern art there. "City Limits" featured the works of Asta Gröting, Yael Efrati and Monika Sosnowska. These three artists explore architectural elements.
Next up was an exhibition of audiovisual pieces from multitalented artist Conrad Schnitzler. For me, this was more enjoyable. The museum also presented these works on old CRTs. For some reason, video art always seems to be shot in very low quality and then shown on CRT TVs, no matter when the footage was shot.
The third exhibition was by Japanese artist Yuki Kimura, who uses the installation to change the perception of the room. The stripes on the wall are part of the artwork ensemble.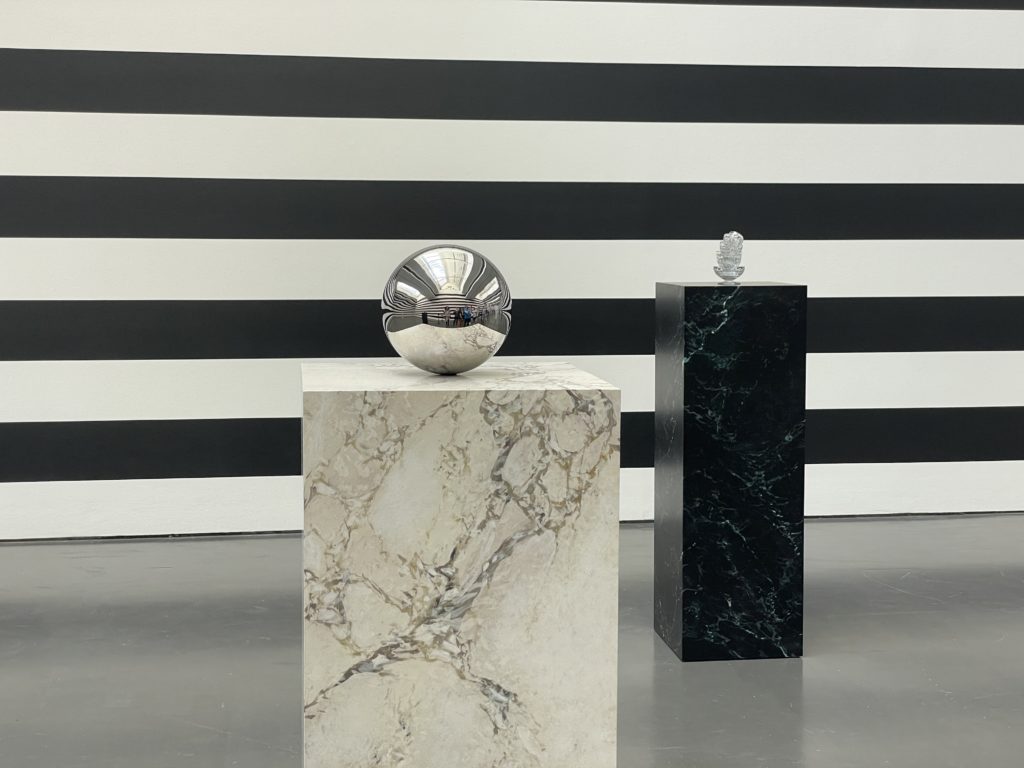 Theatermuseum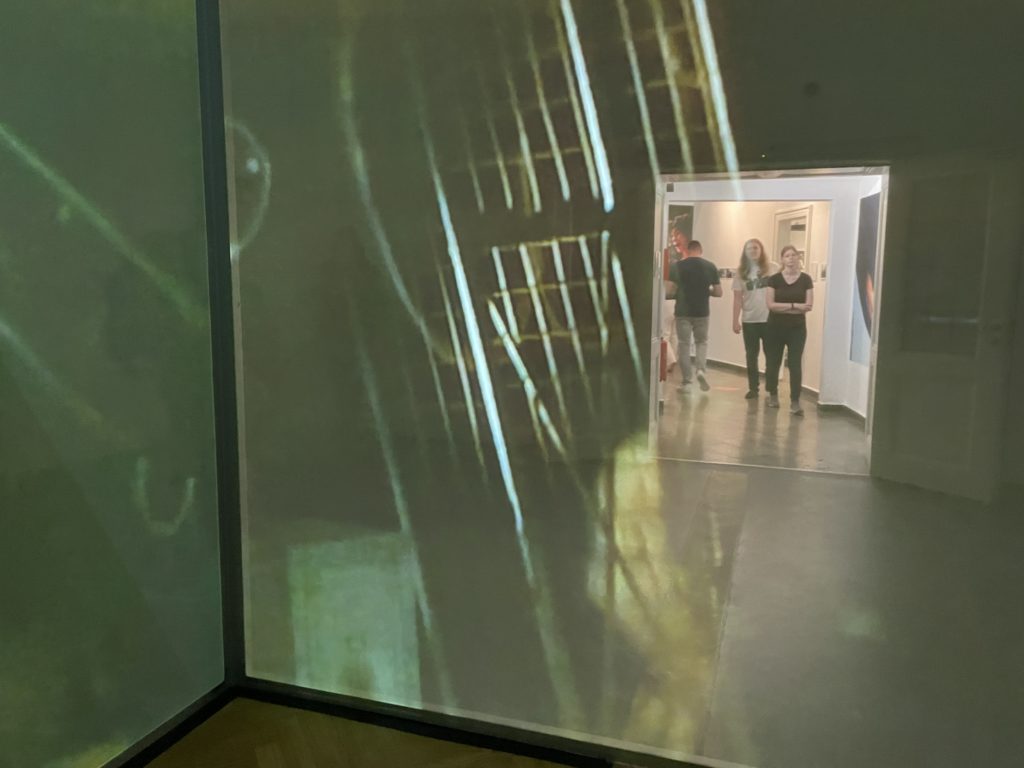 I've never been to a theater museum, so this was a first for me. The museum features props, photos and also showed incredibly low-res clips of performances projected on a translucent sheet.
More irritating was a sort of Q&A session with Sascha Förster, director of the museum. He was talking about some weird dish from East Germany while making a sandwich thing from the Netherlands. Meanwhile, he was answering original questions such as "What beer do you prefer: Alt or Kölsch?" or "Which city is better, Cologne or Düsseldorf?". Good grief!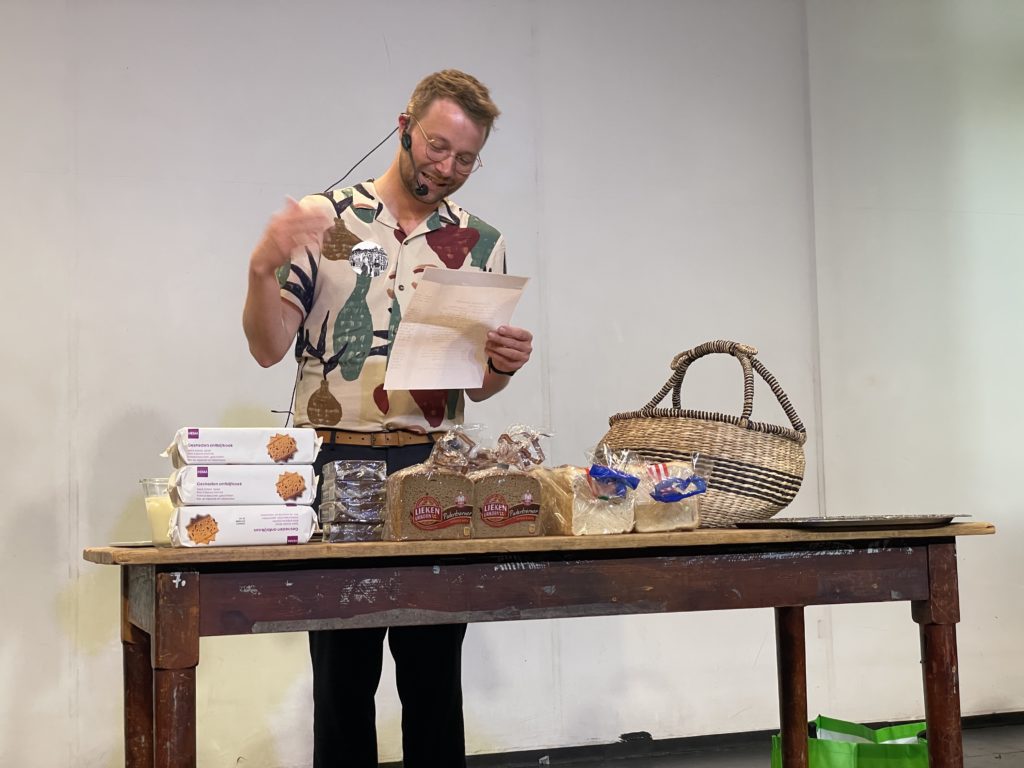 Kunstpalast
Next up was the Kunstpalast with a great variety of modern art. There were a lot of sculptures, paintings and photos. Many artworks were for sale. A great opportunity to leave the museum night with a souvenir! An opportunity that I gladly passed, because all artworks would look incredibly out of place in a flat full of Hello Kitty photos and penguins.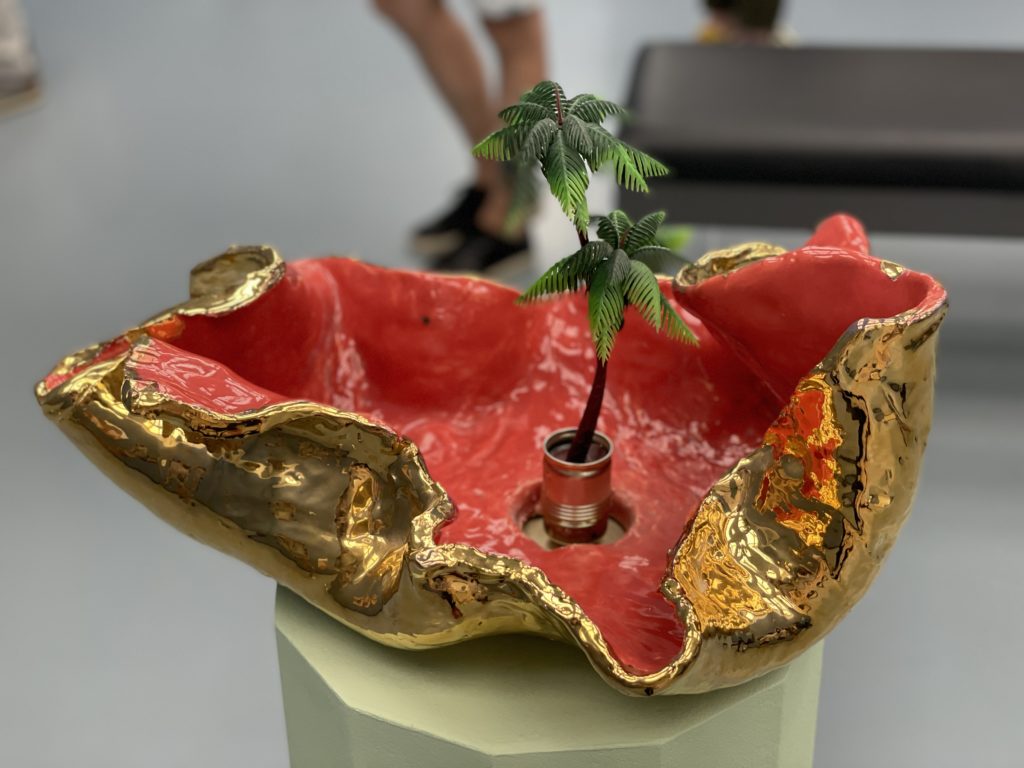 KIT – Kunst im Tunnel
The next stop was supposed to be the Rhine Tower, but the lines were long and seemingly not moving. The Tower isn't a museum of course, although there was a photo exhibition. My guess is, that most people lined up to see Düsseldorf from above at night.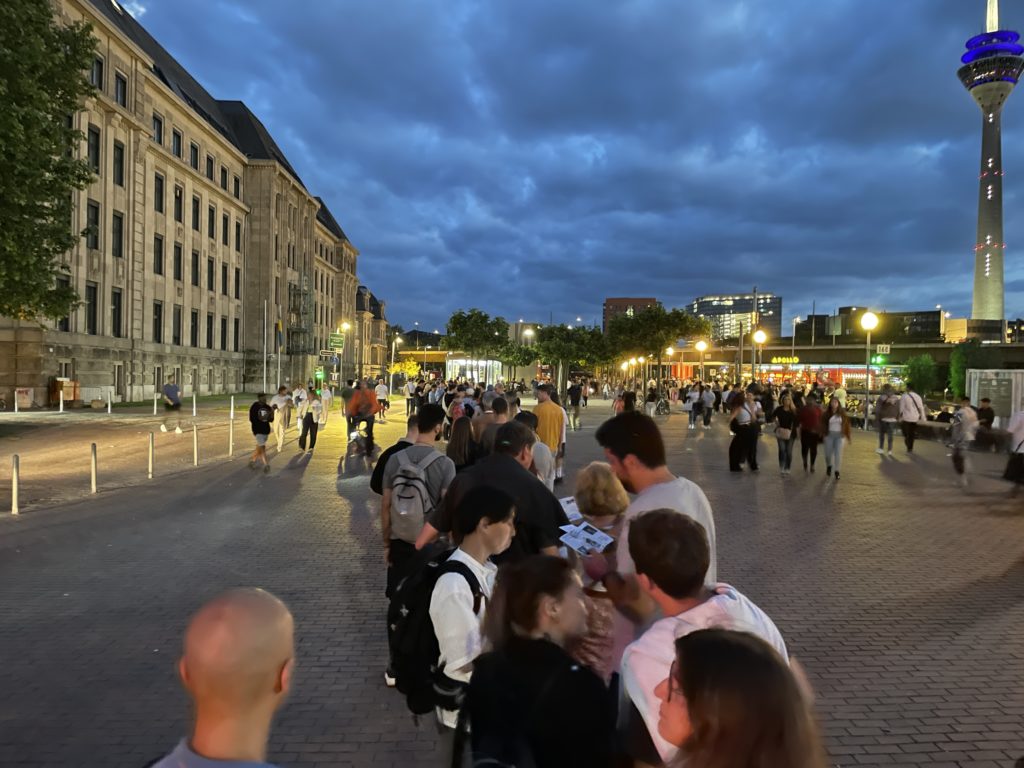 But there is a museum very close to the tower, and it's called KIT. Not to be confused with the artificial intelligence in Knight Rider, KIT stands for "Kunst im Tunnel" (art in a tunnel). This museum is very easy to miss, because it's underground and the overground entrance also houses a bistro. The museum is located within the Rheinufertunnel, a city tunnel that runs under the Rhine Promenade. I sometimes see the tunnel in my social media timeline as an example how cities can improve by removing car traffic. Car traffic wasn't removed of course, but thanks to the tunnel, the Rhine Promenade has become a very nice place.
Kunst im Tunnel is another contemporary art museum. It specializes in young emerging artists and graduates from the art academy Düsseldorf. I wasn't that moved by the exhibition and I'd clearly need explanations for some art pieces, such as a GameBoy Advance SP with a copy of Donkey Kong Country.
Weltkunstzimmer
Last, but not certainly least, the Weltkunstzimmer (World art room). This is a place I feel in love with. I just love old factories repurposed for art or music. Weltkunstzimmer was a former bakery factory. I visited the place first for the vintage clothing sale.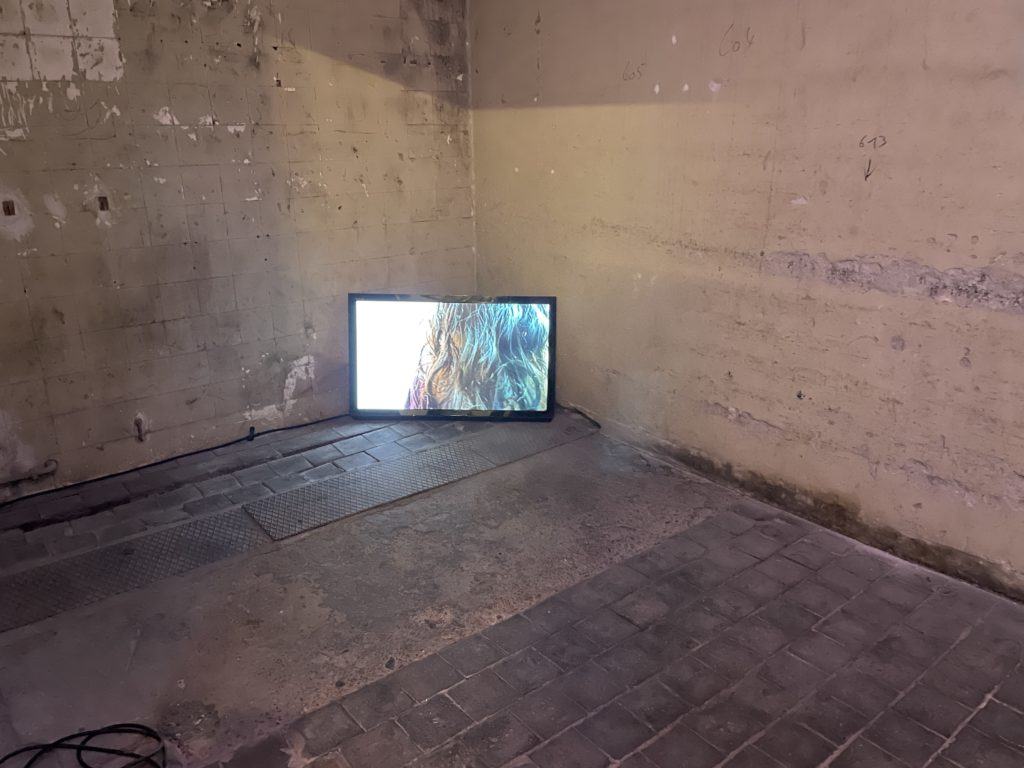 This location has been used for various exhibition projects, music concerts or pop-up store events. Inside, you will see the aging walls of a former factory and rusty doors. Sometimes I wasn't quite sure what was actually part of the exhibition and what not.
But the true highlight this night was the DJ set, which was described as "queer yummy pop". DJ MarXa was on the turntables and she mixed a great collection of music. The location, combined with the low number of people (around 20, 30 people), gave it the appearance of a "secret concert".
Of course it was anything but a secret – but it was a perfect way to end a museum night.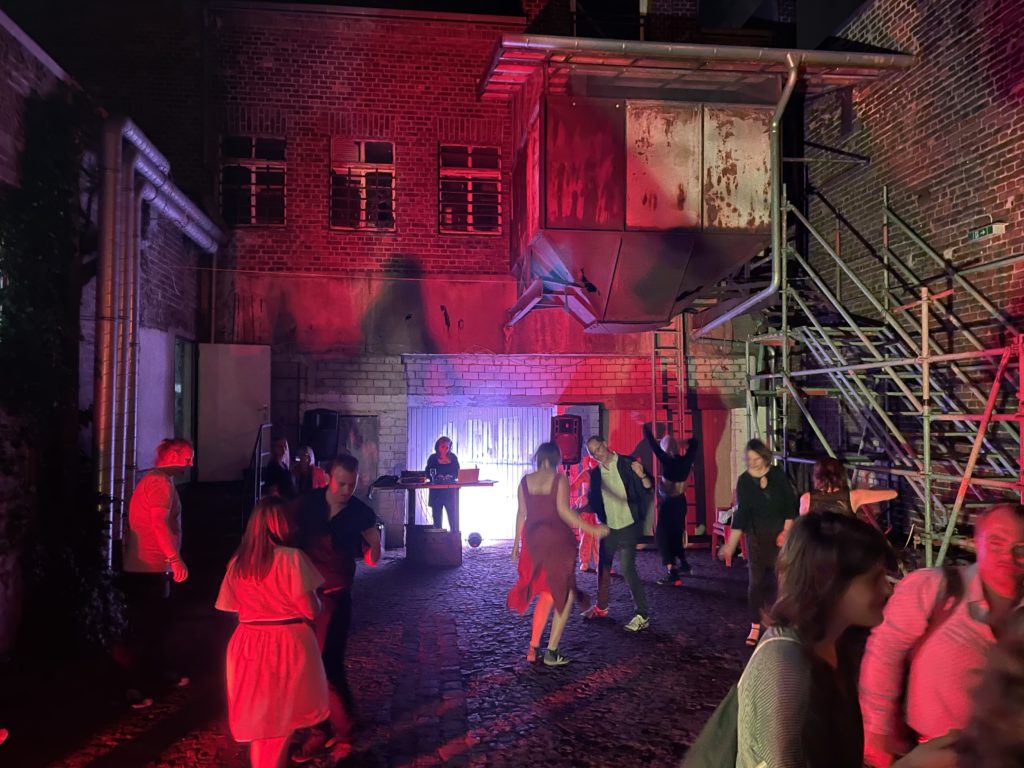 Museum Night location and information